How big is a custom 23 inch umbrella
Keyword:23 inch Umbrella Addtime:2020-12-15
The 23" folding umbrella is already the largest and most common of the folding umbrella types.

The main feature of a folding umbrella is that it is easy to store and carry, so a 23" umbrella is generally the best way to minimise storage and maximise the spread of the umbrella to keep out the wind and rain.

So how big is a 23" umbrella? Below we have detailed illustrations and text to show you.

The size of the umbrella is 33cm when stowed, depending on the handle. Some umbrellas may have a slightly longer handle, the above dimensions are for reference only.

The diameter of the umbrella when open is 108cm, which generally covers a maximum of 3 adults. The height of the umbrella is 66cm.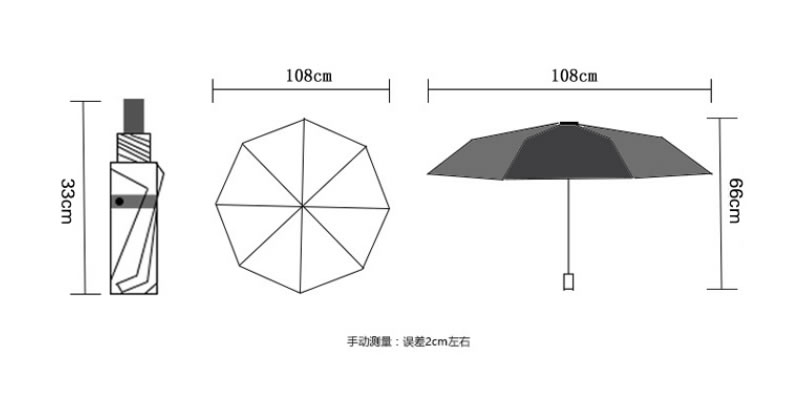 Most custom 23" umbrellas are usually fully automatic. Here we follow a basic standard to give you the common parameter criteria for customising this umbrella

Umbrella cap: black PU paint
Bone: Electric iron + 2 sections of glass fibre 8 bones
Centre pole: electric iron
Umbrella bead: black nickel iron
Umbrella handle: ABS (pictured below)
Umbrella fabric: 210t bumper fabric
Fabric cover: bumper fabric cover

The weight of this configuration is around 400g.

Box size: 49x33x24 50 pieces in a box.
Weight around 22kg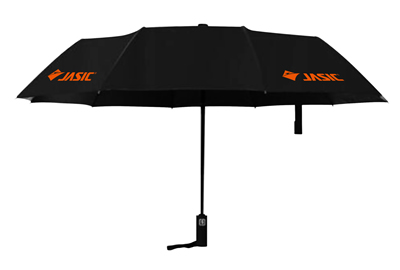 You may not reproduce resources from this website without permission.