What is the best material to choose for the bones of custom-made umbrellas?
Keyword:Fiberglass Umbrella Bone Addtime:2021-02-01
Technology is constantly evolving and new materials are being innovated, products are being updated in both style and material, and the umbrella industry is no exception. Today we talk to you about the new breed of umbrella skeleton glass fibre umbrella bones.
Since the 1960s and 1970s, most of the umbrella bones we use are made of iron or steel, with the more upmarket ones being made of aluminium. Steel bones are easy to embroider, aluminium bones are light but easy to break and not strong enough to last.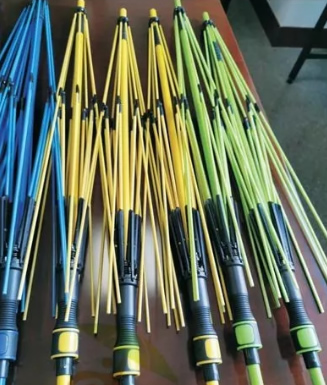 As products continue to be upgraded, more and more umbrella frames are now made of glass fibre, which is what we are talking about today. Compared to steel and iron bones, glass fibre umbrella bones are rust-free, high temperature resistant, wind and rain resistant, and the umbrella frame is not easily broken. It is strong and durable.
Glass fibre yarn is the raw material that determines the quality of the umbrella bone.
There are three grades of fibre yarn: earth, high alkali and medium alkali.
Earthen yarn: the umbrella skeleton made from this material is of low grade and the umbrella fibres are easily broken. Many unscrupulous merchants cut corners by buying earthen yarns to make good use of the fact that amateurs do not recognise them and make huge profits. This kind of umbrella will find that the bones break and crack easily after use.
High alkali yarn: the umbrella bones are strong, flexible and tough, and will not crack, passing the non-toxic test and the pressure test. The skeleton of high-end umbrellas is usually made from this high alkali yarn.
Medium alkali yarns: they are soft and suitable for short umbrellas.
Depending on the size of the umbrella, the thickness of the fibres used varies: the conventional thickness of the fibre bone is 6.0MM 5.0MM, 4.5MM, 4.2M, 4.0MM, 3.5MM, 3.2MM, 3.0MM, 2.8MM, 2.5MM, 2.0MM, etc. The coarse ones generally cost more than the fine ones. This is why there are different prices for the same full fibre umbrella bones. Thicker fibre bones cost more, use more material and are heavier and relatively stronger. When buying a fibre umbrella, customers should also pay attention to the thickness and quality of the fibre bones. The shinier surface of the fibre is usually better.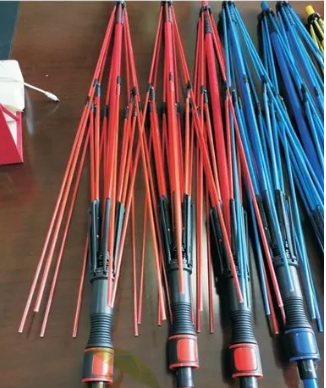 lvyuan Umbrella Factory uses high alkali yarns to produce fibre bones. The fibre bones used in golf umbrellas are 5.0MM/4.0MM fibre and have passed 100% of the Japanese quality testing requirements.
The fibre bones are available in white, black, red, yellow, orange, purple and other colours. We are able to meet the different needs of our customers

You may not reproduce resources from this website without permission.