Custom Umbrellas - Chinese Style Umbrellas
Keyword:Umbrella design Addtime:2021-02-07
Personalisation has become a demand in society nowadays, and as people's living standards continue to improve, many people like to pursue personalisation, and so do umbrellas, and many people like to have their own personalised umbrellas. The Chinese style has also become a design trend, and umbrellas are also available in Chinese style. So what if you could make umbrellas with a Chinese twist?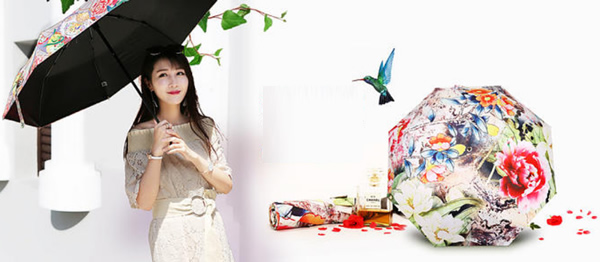 The most important thing about Chinese-inspired design is of course the use of a large number of Chinese elements. In most perceptions, elements such as Huizhou architecture, tea, bamboo, landscape painting, blue and white porcelain, plum blossoms, lotus flowers, Chinese knots, brush writing, paper cutting, eight trigrams and so on are typical visual symbols of Chinese culture. With the clever use of these elements, the traditional Chinese cultural style can be well represented.

①Theatre. This type of element can be considered a must-have, as opera is to a certain extent equated with Chinese style, just like a pop song with an opera aspect added to the melody, the style immediately changes.

②Architecture. The architectural element has certain limitations and is generally used in industries related to architecture, such as real estate; however, if a city's architecture has character, then this element can be incorporated into its design to make a double entendre.

③Utensils. Chopsticks, teacups and teapots are all unique to China and represent elements of Chinese culture, which are generally used in the catering industry.

④ Calligraphy. The application of calligraphy is the most widespread and basic, generally reflected in the font, through the bold strokes to reflect the Chinese style.

⑤ Landscapes. Landscape imagery is particularly used in the real estate industry, generally through gradients to make this type of element, but of course if some places are famous for their landscapes, consider using their elements to show it.

⑥Folding fans. The folding fan is actually considered to be a more partial method of reference, appearing as a single element.

⑦Seals. Like the calligraphy element, the seal is also very commonly used to reflect the Chinese style. A short text involving industry information in the form of a seal placed in a corner of the text is a very common method.

⑧ Lucky clouds. The Chinese clouds are widely used because they have a good meaning and are very representative of the Chinese style element.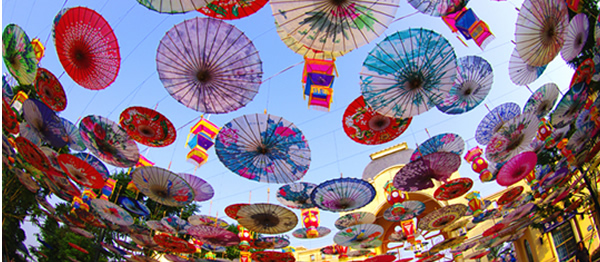 Generally speaking, for example, calligraphy, cursive, Song, traditional and other retro fonts have a bit of Chinese characteristics. Here we recommend 7 common fonts.

1. Tang Qing Regular
2. Han Yi Full Tang Poetry Simplified
3. Founder's Yellow Grass Simplified
4. Founder's Qing carved version of Yue Song Simplified
5. Kangxi Dictionary
6. Founder's Qi Style Simplified
7. Founder Yao Simplified

Ink is a strong oriental culture, and nowadays not only ink drawings and calligraphy are available, but also a number of ink brushes have been developed for use in design and drawing software. By using ink brush materials and a simple background, the Chinese style of writing comes to life.
In ancient China, writing was done in vertical rows, so the use of vertical typography has an ancient Chinese charm. However, it is important to note that vertical typography is generally top-down and right-to-left, so when typographically arranging, pay particular attention to the alignment of the layout, especially top-alignment.

You may not reproduce resources from this website without permission.