Custom 30inch umbrellas from Umbrella Factory
Keyword:Advertising Umbrella Addtime:2019-11-11
Umbrellas come in a wide range of sizes. They are generally divided into the small folding umbrella model, which is 21". Most golf and straight umbrellas are mainly 27". So why are there so few 30" umbrellas on the market?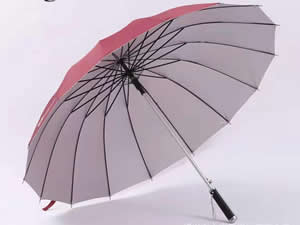 There are actually not many 30" umbrellas out there, but most retail outlets don't stock that many 30" umbrellas. Because after all, 30" umbrellas are very large and not suitable for carrying. But customers still save up. Green Source Umbrellas then matched to a customer who had a custom 30" umbrella.

One customer demanded a custom 30" straight umbrella, with a 16-bone aluminium alloy bone. But the order quantity is as little as a few dozen. And many manufacturers are unable to take orders to generate.

Today we are also analysing this case, the umbrella manufacturer is in fact a traditional assembly line, not all parts are produced by themselves, such as the umbrella bone, umbrella handle. These are all customised parts that need to be sourced. 30" umbrellas have very little demand, and manufacturers don't keep so many scarce umbrella bones on hand for this reason as a production standby.

There is also the fact that the 30" 16-bone aluminium umbrellas have to be custom made, but there are so few that even the umbrella manufacturers won't mould them to fit. Without a few thousand to start with, manufacturers will generally not take on these special orders.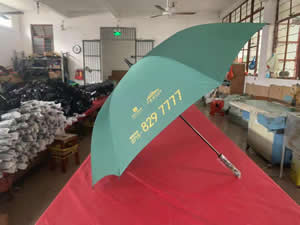 The umbrella bone is the main material that is used to produce the order. Other materials such as umbrella cloth, umbrella handle and umbrella pole are available to match the type at will. Therefore, manufacturers will not take small orders for 30" umbrellas that have special requirements for the number of bones and the material required for the bones.

What most manufacturers will have on hand is the usual 30" full fibre 8-bone umbrella bones. So this type of order proves that there is a large market.

You may not reproduce resources from this website without permission.