Where is the umbrella factory in Guangzhou
Keyword:manufacturer news Addtime:2019-04-16
Guangzhou is a commercial center. The headquarters of many large companies are located in Guangzhou. So the question is, if there is a company customized advertising umbrella, can Guangzhou really find it? The editor can tell you that there are no custom umbrella manufacturers in Guangzhou, because there is an assembly line for umbrella customization, raw material wholesale, procurement, design, processing, and production. Guangzhou is just a sales market. Not the original place of production.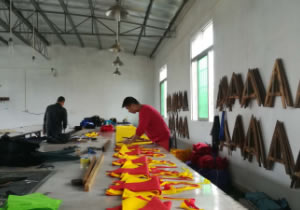 Umbrellas are mainly produced in Taoyuan Town, Heshan, Jiangmen. This is a very famous umbrella production base. There are thousands of large and small umbrella factories, and the hometown of umbrellas has a history of 100 years. The entire town is assembled with raw materials to produce one-stop production.

Green Source Umbrella Industry also has offices in Heshan and Guangzhou. The main purpose of opening offices is to connect more metropolises, which may facilitate contact with customers, follow-up after-sales, and maintain good communication with customers.

You may not reproduce resources from this website without permission.