Advertising Umbrellas Customized|Advertising Umbrella Manufacturer
Keyword:lvyuan Umbrella Factory Addtime:2021-03-29

Product name

size

shaft

(frame)

RIB

handle

Outside

Inner Umbrella Fabric

price

Material

RIBS

Printing plates

Technology

Fabrics

Tri-fold Umbrella

21 inch

Electroplated black iron

Electroplated black iron

8

Rubber

Umbrella surface:4 Printed board

pouch:1 Printed board

Silk Screen Printing

Black tape

Monoprints, digital printing

¥28/支

automatic tri-fold umbrella

21 inch

Electroplated black iron

Electroplated black iron + two sections of fibre

8

Rubber

Umbrella surface:4 Printed board

pouch:1 Printed board

Silk Screen Printing

Black tape

Monoprints, digital printing

¥32/支

Golf Umbrella

27 inch

Full fibre

Full fibre

8

Plastic curved handle

Umbrella surface:4 Printed board

Silk Screen Printing

Black tape

Monoprints, digital printing

¥36/支
According to the design requirements Green Source provided three customised umbrellas to choose from.
The umbrellas were screen printed plus digital printing mode, the printing effect was the same as the design without colour difference, which was highly approved by the customer.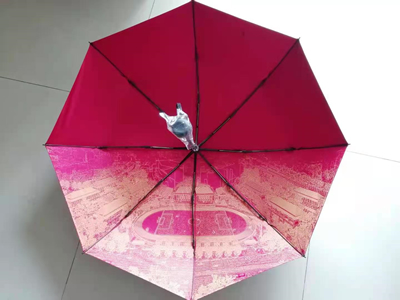 Screen printed umbrellas are relatively cheap, but there are some restrictions on colour, if there is a wide range of colours and a gradient colour effect, it may not be possible. Offset printing has some advantages over screen printing in terms of colour, but there is a layer of gel on the surface of the fabric, so if it is folded up it will stick together, and when it is propped up again, the colours may be staggered, and the cost of opening the plate for offset printing is also higher. The advantage of digital heat transfer printing is that there is no restriction on the colour, high colour reproduction and small batch printing, but the disadvantage is that the cost is much higher compared to silk screen printing.

You may not reproduce resources from this website without permission.