Why some ladies can't even get a tan - Trendy Umbrellas 2021
Keyword:Lvyuan Umbrella Factory Addtime:2021-04-09
We all know that prolonged exposure to strong UV rays from the sun can lead to darkening and even ageing of the skin. Therefore, if you are going out in summer, sun protection is a top priority. Sun protection on the market is basically divided into chemical sun protection and physical sun protection.
As an example, the sunscreen we are familiar with in our lives is a proper "chemical sunscreen".
I don't know if you have ever seen a sunscreen evaluation experiment. The body is painted with black tape in a 'tic-tac-toe' grid and the middle of the grid is coated with different brands of sunscreen and exposed to the sun to test which sunscreen works better.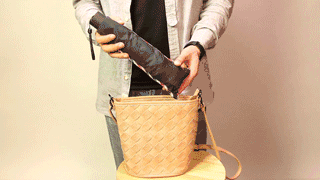 In the end you realise: Hey, the really great sunscreen is the vinyl part. And that's the "physical sunscreen" part. From this experiment, it is easy to see that "physical sun protection" is more effective than "chemical sun protection". This is why vinyl is so widely used in everyday life as an umbrella material, and is so popular with girls for its sun protection. But there is a very real problem with traditional umbrellas - they are too heavy, too big and not easy to store. So, when we went shopping for umbrellas, we found that the original umbrella sellers had started selling pocket umbrellas ...... Now they are all mini and light, and can be used for both sun and rain, which is great! But then again, the best pocket umbrellas on the market are really expensive! In the spirit of spending every penny on the right thing, an umbrella over 100 is a real pain in my ass!
But I don't want to buy a random umbrella from a convenience store either.
After all, I'm not very sophisticated but I do know the difference between an umbrella and a sun umbrella. The reviewers did an experiment where they tested 56 commercially available umbrellas from all over the world.
The end result of the experiment proved that 87% of umbrellas cannot be used as sun umbrellas and 90% of sun umbrellas cannot be used to protect against the rain. The reason is that using a normal umbrella to block the sun only blocks some of the sun, not ultraviolet rays.
So what to do?
I had to go to my good buddy Sanji to save the day.
He recommended me this great value for money - the
Bag Umbrella
Before I introduce it, Lvyuan Umbrellas would like to emphasise that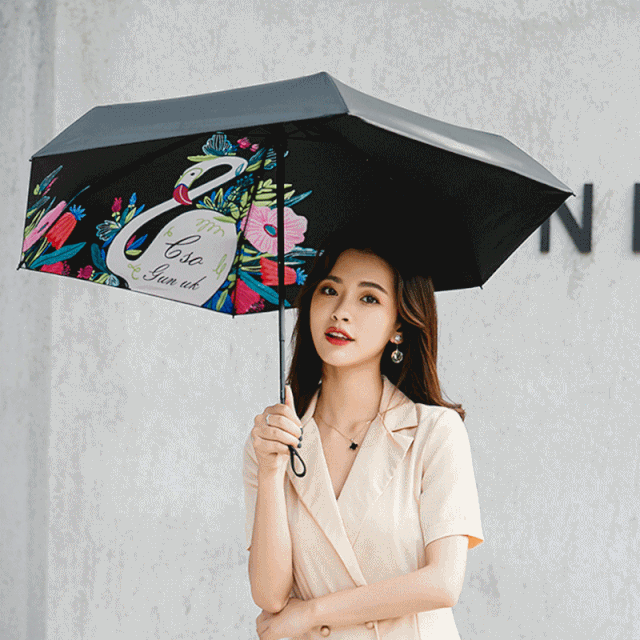 It's really cheap, so if you don't have the patience, just scroll to the end of the article~
When I first saw this umbrella I couldn't help but exclaim: "It's really small!". . It's not too hard to hold, and it's only a little heavier than an iPhone 11. There are many pocket umbrellas on the market that can be used as both a sun and rain umbrella. They all offer a lot of protection from UV rays, but the price is not as good.
And some fabrics can be fragile, so when it comes to heavy wind and rain, it will blow up in minutes. ...... Don't look at this pocket umbrella, but it's not weak in heavy wind and rain, as Uncle Meat will talk about later. In addition, it also addresses a pain point that we encounter with umbrellas on a daily basis. When we put the umbrella away on a rainy day, it always leaves the ground wet, but not with this umbrella, which takes care of the water damage with a flick of the wrist.
It's also worth mentioning that it's a "power" umbrella when it could be made to look good.
It comes in a range of colours and patterns, so if you're a beauty lover, there's always something for you.
It's not that I've never seen an all-round umbrella like this one, but this one is really cheap...
Lightweight, compact and cost effective
This summer will protect you ↓↓↓↓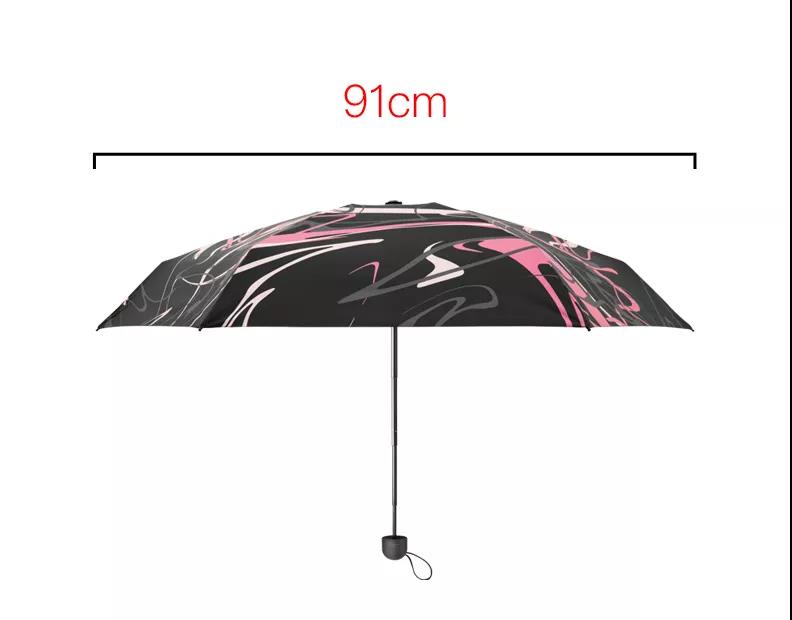 - 1 - Lightweight, compact and easy to store
I've shown you how small and light this pocket umbrella is, it's just like carrying an extra phone. You can keep it in your bag all the time, so you don't have to get stuck in a tussle about whether to bring an umbrella today or not, and the weather is unpredictable.
You'll never lose your umbrella again, so those who are forgetful will save a lot of money over the year. What's a little surprising is that although it's small, it can hold two people!
Because we usually use a three-fold umbrella, but this is a real five-fold umbrella, with a diameter of 91cm!
This is because we usually use a three-fold umbrella, but this is a five-fold umbrella with a diameter of 91cm. Girls like to wear skirts in the summer and are partially tanned below the knee, which is tiring~ This mini umbrella is designed with the female body structure in mind, with the umbrella tail extending down to the edge, increasing the coverage area by 30%. It's a great way to protect yourself from the sun and rain from head to toe, so you can wear your skirts and shorts with confidence!
- 2 -99% UV protection, UPF 50+
We all know that UV rays are the "invisible killer" of skin ageing, among all the factors that contribute to it. This CSOGUNUK mini umbrella protects against 99.99% of UV rays and has a UPF 50+ sun protection index.
This has been tested by a professional third-party testing institute and far exceeds most sun protection umbrellas on the market.
The main reason for this strong sun protection is its high-tech fabric: 9 layers of vinyl barrier and an outer layer of 210T 70D high-density soft fabric that helps you repel UV rays in layers. It took the R&D team 2 years to micronise the coating distillation process to a thinness of 0.05mm. The distillation of multiple layers is still light and thin, the equivalent of 2 sun protection umbrellas! To give you a quick introduction to high density bumper fabric. It is a better quality fabric for umbrellas, very resistant to wear and tear and has a long service life. It is also a very strong barrier, blocking light and insulating. We also did a light transmission test to find out: when the CSOGUNUK umbrella was exposed to 1000W of light, the result was 0 light transmission. When exposed to strong light, it is also impervious to light, really strong!
- 3 -Rain or shine, it's all in the details
Some ordinary dual-purpose umbrellas are a real dilemma when it comes to wind and rain. Many umbrellas have poor waterproof fabrics. When you get in the car or indoors, a wet umbrella is a burden, it doesn't go anywhere and it doesn't dry in time and smells bad. The CSOGUNUK Pocket Umbrella, on the other hand, has a water-resistant fabric that coalesces into water droplets and slides smoothly off the fabric. And the seams are so tight that not a drop of water can seep through! With a gentle flip, it doesn't drip, so you don't have to worry about getting wet everywhere when you go indoors.

German micron parallel weave

The umbrella bone is made of aerospace 6-series aluminium alloy + fibreglass bone. It has a very high pressure and weight-bearing capacity, and is safe from heavy winds and rain, and does not feel heavy. This material is also very flexible, see, even when bent 180° it does not break and it also recovers instantly and automatically. The switch is made of PC material combined with zinc alloy for safety and convenience, reliability and durability. The umbrella head is made of plastic, which makes it effective against electricity and protects us on rainy days. The handle is ergonomic and U-shaped, with a skin-friendly coating that is comfortable to touch. The umbrella bone is stabilised with a copper alloy stabiliser with 0 internal gaps, so there is no wobbly feeling and it is stable and firm.
In terms of value, of course, we have also worked hard. This mini umbrella is available in a wide range of elegant colours.
The colourful coating is not overly high profile on the inside, while the coating is bright and eye-catching on the outside, depending on your preference.
It is more literate, unique and vibrant than the traditional small black umbrella. Each one is beautiful and special, a selfie-taker with its own halo background and a great turnout. Especially in summer, it's a beautiful sight.

You may not reproduce resources from this website without permission.