The umbrella that changes colour
Keyword:China Umbrella Factory Addtime:2021-07-25
Raining gives a dull feeling. When it's raining, a fresh umbrella will make you feel better. When it rains, there are all sorts of umbrellas in the streets and alleys. Dark, monotonous umbrellas make people feel more dull, while cute, fresh umbrellas give people a sense of optimism and optimism. Apart from cute and fresh umbrellas, I think umbrellas that change colour are even more tasteful. Here, take a look at the awesome tri-fold umbrellas I have for you.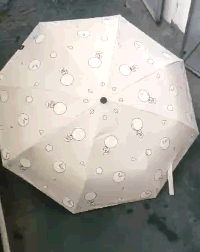 The colour changing tri-fold umbrella adds a touch of fun to your boring rainy days, and with the little skill of colour changing, it can be used as a gift for someone else, bringing them joy for sure.

The umbrella changes colour when exposed to water, making your ordinary life even more fantastic, making it the perfect gift for someone.

You may not reproduce resources from this website without permission.