Customised umbrellas|Which style is better for giveaways
Keyword:Lvyuan Umbrella Factory Addtime:2021-03-22
Many activities need to be used to promote the giveaway, especially seasonal giveaways to advertise, then umbrellas are the best publicity. Custom printed advertising slogans on the umbrella become moving advertising, so which style of umbrella is a little better and more suitable to give away as a giveaway?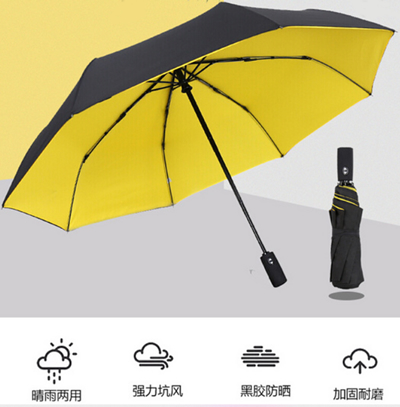 Umbrellas as giveaways are nothing new and are used by different types of businesses to advertise. If it's a question of which is more relevant to advertising, the straight or folding umbrella, it's a question of how we live and what we use. The tri-fold umbrella is the most frequently used basic umbrella, it is lighter and more suitable in size, moreover it is stronger and the materials used are basically wind-resistant, which protects you in windy weather.

The tri-fold umbrellas are used for advertising purposes because they are highly utilised, otherwise they would be unused and lose their advertising value. A better utilisation of the umbrella can bring good advertising benefits directly to the company, and this is something that many companies understand.

You may not reproduce resources from this website without permission.